Golf Driver Optimum Distance
PRINT THIS PAGE
Your input values were used to calculate the results below!
Scroll down.
Swing Speed Radar.


The Swing Speed Radar® with Tempo Timer is used at ALL Top-Rated Jim McLean Golf Schools and is enthusiastically endorsed by Jim McLean. Look for our TV ads on The Golf Channel.
Get yours today!!

ONLY $119.95!! Get the details by clicking HERE.
Measure your swing speed with affordable Doppler radar!!
Increase your swing speed to increase your distance.
Monitor your swing consistency.
Include velocity feedback when trouble-shooting your swing.
Measure your swing speed improvement as you optimize your swing mechanics.

Receive a free copy of Golf Driver Optimum Launch Calculator with your purchase, a $24.99 value (see below).
Your Optimum Loft Driver Results

Carry Distance for standard 10 degree Driver:
-194 yards

Total Distance (carry + roll) for standard 10 degree Driver:
-148 yards

Driver Loft that Yields Maximum Carry:
24.5 degree loft Yields Maximum Carry of:
-93 yards
Driver Loft that Yields Maximum Total Distance (carry + roll):
20.7 degree loft Yields Maximum Total Distance of :
-112 yards
The values calculated assume contact with the ball is made at the bottom of the swing. Distances are approximate +/- 1 yard because of limitations in the online equations. More accurate results are available when using the actual spreadsheet.
The total distance depends on the amount of roll. In this calculation, a typical dry fairway is used.
If you want more accurate and detailed calculations, you can purchase the spreadsheet that was used to produce the values. Along with many more measurements, you'll have access to graphs that describe the various relationships.
The spreadsheet will provide you with these additional features:
| | |
| --- | --- |
| | Discover backspin rates resulting from different lofts and club speed. |
| | Explore optimum distances on soft fairways and firm fairways. Would you use different loft Drivers? |
| | Determine launch angles resulting from different lofts and club speeds. |
| | How does air temperature affect carry and total distance with different lofts? |
| | Coefficients of Restitution, COR, for all club speeds. |
| | Time of flight for all trajectories. |
| | Impact angles the the resulting roll along the fairway. |
| | Many of the measured values are plotted against one another on graphs. |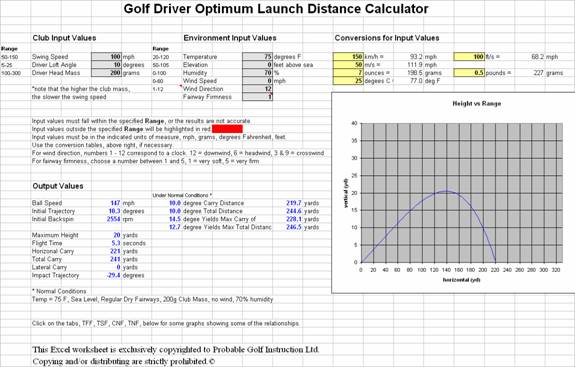 Order a copy of your own spreadsheet, that does all explained here, by using the following secure link: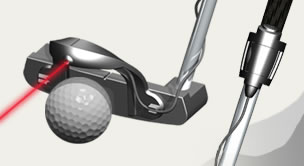 After only a few days of practicing my alignment with the laser device attached, I am now squaring the putter face to my target consistently. I can now practice making a proper stroke confident that I am aimed at my target. I am missing my putts a little right now, but am confident that I will "cure" my cut stroke.
Take a look at the Laser Putting Device that I use and consider getting one for yourself
Order yours TODAY! Only $49.95
The initial backspin is dependent on the clubhead speed, loft and center of mass of the clubhead. One could obtain more distance with the same loft by changing the center of mass.
Visiball Golf Ball Finders
(as seen on the Golf Channel)
View Demo of how they help you find your lost golf balls.
Never Under Read a Putt Again with BreakMaster
© 2000-2015www.probablegolfinstruction.com
If you are interested in receiving a newsletter dedicated to the ideas of this site, use the form below to subscribe.
Privacy Statement:
We will not use your mailing address for bulk mailings (spam). We will send information you have requested only. Furthermore, the frequency we will deliver the information will be small (about one email message per month). We will not pass your email address to third parties under any circumstances.
Push the back button on your browser to return to the input page.