Wind Effect on Golf Ball Trajectories
The speed of the wind varies with height above the ground. A golfer is able to measure the speed of the wind at ground level. The golf ball moves from the ground at a higher points where the wind speed is greater. The higher the ball moves, the greater the wind speed. The physics of fluid motion models how the speed changes with height. It is well understood. Unfortunately, the wind changes (gusts) and thus adds uncertainty to the golfer's measurement of wind speed and direction.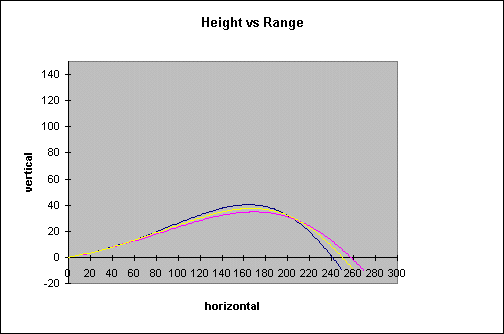 Above is a graph showing the path of 3 different drives. The shortest represents hitting into a 5 mph wind (about 240 yds). The longest represents hitting with a 5 mph wind (about 260 yds). The middle length drive is with no wind (about 255 yds). A 5 mph wind is very minimal, thus the effect is low, yet significant. Note as well the different trajectories created by the wind.
Below is a graph showing the path of 3 different drives, similar to the one above, except the wind speed is 20 mph.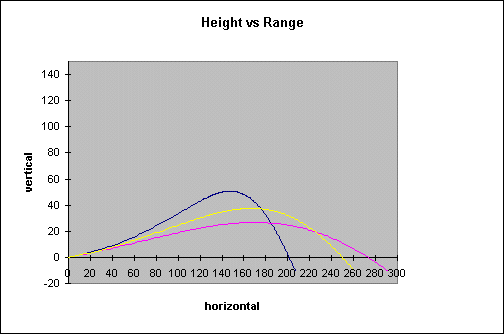 Note that into the wind the drive flies 200 yds, with no wind it flies 250 yds and with the wind, it flies 275 yds. The effect of the wind is much more significant when hitting into it than when hitting with it. Hitting into the wind actually causes the ball to balloon higher into the air. Of course the effect of the wind depends on your ball trajectory. Players that hit the ball higher have their shots more greatly effected. That's why better players tend to hit knock-down shots when playing in the wind. As well, how far a player hits his/her various clubs will have an effect of how many more or less yards the wind will provide. Even the best players in the world have a tough time with the wind. Wind speed is hard to read and wind gusting makes it tough to predict the effect on the golf ball, and to commit to the shot.
Apply This Science to Score Improvement
Using accurate golf ball trajectory software, one can calculate how to adjust your club selection for changes in temperature, wind, altitude and elevation (uphill/downhill shots). See below.
Why Choose Probable Golf Services?
We have been providing golf advice online since 1999 and have been research the best in golf science since 1996. From Probable Golf, you can get advice on how to improve your game using math & science, how to best arrange your golf group foursomes to reduce repeat pairings, how to protect your home or business from errant golf balls, how to best interpret golf statistics.