Golfer Improvement Survey
Attention: Please complete the below survey.
The purpose of this survey is to collect accurate statistics on a world wide basis on handicapping. Of particular interest are the ages of golfers when they start the game in relation to possible progress that could be made and at what rate.The aim is to motivate and show people of all ages what can be achieved.
If for example a person wishes to start the game at 70 years old (I am using this age because it is not really aimed at kids where anything is possible) it would be a positive move, to show that there have been "X" amount of people of the same age who have achieved "Y" handicap level.
We feel it is really important for someone new to the game who is finding things tough to understand that golf is about structured training and expert advice mixed with personal input, effort and enthusiasm.But motivation is the key to the latter certainly,even if you only play for personal enjoyment, it is nice to know what could be within your grasp if so desired.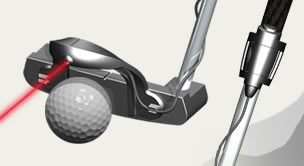 After only a few days of practicing my alignment with the laser device attached, I am now squaring the putter face to my target consistently. I can now practice making a proper stroke confident that I am aimed at my target. I am missing my putts a little right now, but am confident that I will "cure" my cut stroke.

Take a look at the Laser Putting Device that I use and consider getting one for yourself

Order yours TODAY! Only $49.95

©Probable Golf Instruction, Ken Tannar 2001-2010. All Rights Reserved.

Langley, B.C. V2Y2G4 Canada
Phone:604-539-7760 FAX: to fax, email an attachment
probablegolf@yahoo.ca or golfexpert@probablegolfinstruction.com