New -- Social Golfer Combinations
Alignment is Key to One Putts
Alignment is one of the most important aspects of golf. I often see my higher handicap playing partners misalign on many of their shots. Mistakenly aiming 15 yards right on a drive many not cause a big problem, but aiming 1 inch right on a putt can "guarantee" an extra stroke.

A study by Potts & Roach entitled, "Putting Alignment in Golf: A Laser Based Evaluation" found that all golfers misalign their putters. On a 6 foot straight putt, novice, 12 - 24 handicappers and 2 - 11 handicappers, misaligned outside the hole 12%, 2% and 2% of the time respectively. On a 12 foot straight putt, the same golfers misaligned 71%, 40% and 43%, respectively. On a 12 foot putt, when the golfers used a "foreshortened target" between their ball and the hole to aim at, there misalignment decreased significantly to, 59%, 36% and 32%, repectively. When a golfer misaligns, he/she must modify the stroke to hit the ball on line. That usually means putting sidespin on the putt. Misalignment causes missed putts and a decrease in confidence. We all know how important confidence is to putting.

Another study by Carnahan entitled, "Experimental Study of Effects of Distance, Slope and Break on Putting Performance for Active Golfers," measured 1 putt percentages of golfers: touring pros, 1 - 14 handicappers and 15 - 30 handicappers. He found that on a 6 foot putt, the one putt percentages are 50%, 45% and 35% respectively. On a 12 foots putt, he found the one putt percentages to be 25%, 19% and 19% respectively. If we take the 14 - 30 group, Carnahan found the percentage dropped by 35% to 19% when comparing a 6 foot to a 12 foot putt. The successive rate is almost halved. When one looks at the misalignment study mentioned earlier, the same group misaligned 22% of 6 footers and 71% of 6 footers. One can definitely attribute the lower percentage of holed putts to misalignment. Carnahan also found that sidehill, breaking putts were holed less often than uphill straighter putts. On 7 foot putts from all different angles around the same hole, the average percentage of one putts was 47%. The most difficult putt, a sidehill, downhill was holed 38% of the time whereas the easiest putt, an uphill, gently breaking was holed 58%. The differences in one putt percentages can be explained by poor reading of the greens. Even most professionals under read many of their putts. If you'd like some help with reading greens, I can provide some help. I have developed a "matrix" which indicates the amount of break per degree of slope. The slope of the green can be measured by plumb bobbing. Personally, my putting improved immensely after I started applying the matrix. I had plumb bobbed for years and found it could only tell me which way a putt breaks. My matrix now tells me how much.

Learn more about reading putts.

Download the "Matrix" now for only $12.99 and get "How to Read & Play the Wind" and "How to Club for Uphill & Downhill Shots" as part of the package.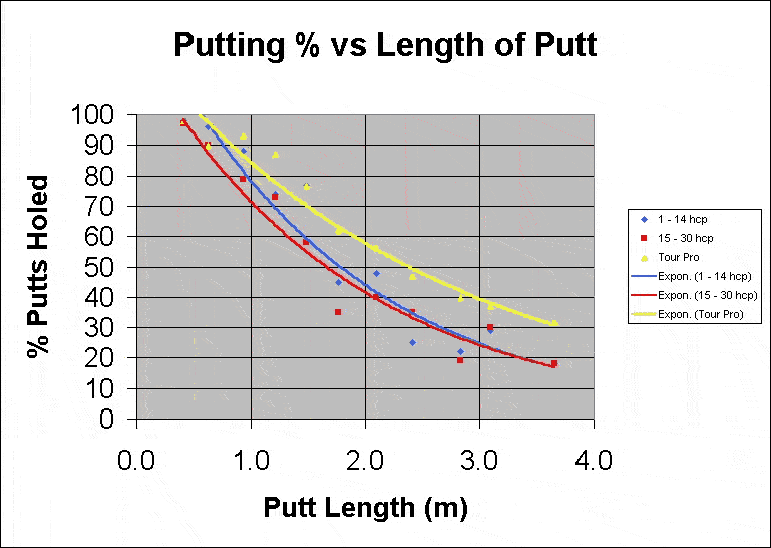 ©Probable Golf Instruction, Ken Tannar 2001-2015. All Rights Reserved.

Langley, B.C. V2Y 2G4 Canada
Phone: 604-309-7030 FAX: to fax, email an attachment
probablegolf@yahoo.ca or golfexpert@probablegolfinstruction.com