New -- Social Golfer Combinations
Swing Like a Genius T-shirts -- special prices for Black Friday expire on Dec 1
Albert Einstein was one of the renowned Genius' of the 20th Century. One of the major principles of Tannar Golf is learn solid fundamentals so that one can learn to "Swing Like a Genius" and play great golf for an entire lifetime.
To celebrate these ideas, I've created a novel T-Shirt that I'm sure will be popular for the golfers in your life.
Do you know someone that fits the desire of lifetime enjoyment of this great game? What a great gift idea for your golfer!!
If you're having a tournament and want to order a large number, email me for discount information.
| | |
| --- | --- |
| | Background Image Detail |
Select your size(s) from the menus below. You can select quanities later.
Get one for yourself. $14.95
Get one for your partner.
Get one for your whole family. 4 for $40 -- 33% off
Get one for all of your golf students. 6 for $50 OR 8 for $60 -- 50% off
If you'd like to order 4, 6 or 8, then use the links below and then I'll email you to request sizes.
These T-shirts are made of 100% high quality cotton.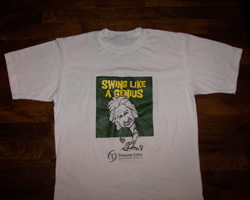 Other Great Gift Ideas for Your Golfer
Golf Like a Genius T-Shirt

Engraved Ball Marker, Divot Tool, Hat Clip

One Club Length, Different Lofts One length club, one set up, one swing, more consistency. Let the club do the work. Enter the code 10504 and receive a Special Bonus from them and a complimentary Golf Genius T-shirt from me.

Learn more about these revolutionary clubs HERE.

For a short time, One Iron golf clubs will have free worldwide shipping. And, notify me of your purchase by email, and I'll send you a complimentary "Swing Like a Genius" T-shirt.

Golf Ball Putting Glasses with UV Protection

There's much more to learning this game than hitting it long and straight.

Visiball Golf Ball Finders
(as seen on the Golf Channel)

View Demo of how they help you find your lost golf balls.
©Probable Golf Instruction, Ken Tannar 2001-2015. All Rights Reserved.

Langley, B.C. V2Y 2G4 Canada
Phone: 604-309-7030 FAX: to fax, email an attachment
probablegolf@yahoo.ca or golfexpert@probablegolfinstruction.com