---
1 Iron Golf -- Iron Distance is Determined by Loft
Send me any suggestions you have for the next or future newsletters. Just submit your ideas using this simple form.
Well, I've now been playing with my 1 Iron Golf Clubs for about a month. I must say I'm very impressed.
Before my golf course opened, I visited a driving range to hit some balls. I used a Swing Speed Radar to measure my club head speed. I tested my old 5-iron and my new 5-iron, which is about one inch shorter. Note from the results in the table below, there was not a significant difference in club head speed, even though the clubs were different in length.
| | | | | | | | | | |
| --- | --- | --- | --- | --- | --- | --- | --- | --- | --- |
| | | | | | | | | | Average Club Speed |
| Old 5 | 90 | 85 | 84 | 87 | 84 | 86 | 86 | 95 | 87.1 mph |
| New 5 | 83 | 84 | 97 | 83 | 99 | 86 | 92 | 83 | 88.4 mph |
I then hit my old 8-iron and new 8-iron and found similar results; there was not a significant difference in club head speed even though the clubs differed in length. I also found that my new irons hit about the same distance as my old irons.
In the May, 2007 issue of Golf Magazine, "The Starter" section refers to a 15 handicapper who has a gap of distance in his set of clubs. In tests, it's determined that his 3, 4 and 5-iron club head speeds are 91, 89 and 95 mph, repectively. Again, the difference in club head speeds is not significant. In fact. the ranges with all three clubs were within 2 yards of one another. This research, my research and the hundreds of hours of research done by 1 Iron Golf concludes the same thing. Different length irons are swung with relatively the same club head speed. Loft is the major determiner of distance for irons.
If you want to track your full game, there's a great golf statistics analysis software called SHOT BY SHOT. I've made arrangements for a $34 discount off the annual subscription rate. And, you can try out the software first if you like. What I like so much about this software is that it compares your game to a huge database of other golfers (over 35 000 rounds).
Click here to learn more and/or order: SHOT BY SHOT Full Game Analysis
Great Golf Game Analysis
The next test was the golf course itself. I have found that my ranges for my various irons with my new, equal lengthed clubs, are almost the same as my old irons. In fact, I actually hit my new irons about 5 yards farther. So, for example, my new 5-iron flies about 180 yards instead of 175 yards, even though it is about an inch shorter. The longer distance is due to the fact that my new irons actually have about 2-3 degrees less loft. This again supports the fact that loft determines distance.
The One Iron clubs are all the same length as a standard 7-iron. I feel I have more control with my 3, 4, 5 and 6-iron now. These clubs are shorter than my old ones, thus the ball is closer to my body. The new 8, 9 and PW, are longer than my old clubs. I initially found it odd for the clubs to be longer (the PW is the same length as the 7-iron). As I continue to play them, they're becoming more comfortable.
If you're contemplating a new set of clubs, I'd highly recommend the One Iron Clubs. They feel great, they're based on excellent science, they are great to look at and I believe they will promote more consistent golf because you will be swinging the same length club on all your iron shots.
1 Iron Golf has a 30-day Money Back Playing Guarantee. That's right, you can play with your new clubs and return them if not satisfied that they've improved your game.
Write down your special code, 10504, and ......
Visit 1 Iron Golf right now.
For a limited time, they're offering free shipping within the continental USA and Canada. The code, 10504, will get you a free set of iron head covers and provide me with a small commission.
If you want further science about the golf clubs, view my previous newsletter.
How to Make Your Pitches Bite -- the ball can really help.
I advocate using as premium a golf ball as you can afford for the basic fact that you will have more feel and be able to impart more backspin on such balls. Your short game (100 yards and in) accounts for over half your strokes. A ball with great feel and ample backspin will most significantly lower your score.
In a recent Golf Magazine Gear Test, the magazine cited the Titleist Pro V1 getting just under 12 000 rpm whereas the Topflight Extreme Distance only got aobut 8 000 rpm, both with the same wedge. The topline balls get more backspin, period. Yes, they will also get a little more sidespin, but it's not that signficant (sidespin rpm is far less than backspin rpm).
In my 2005 Report on the Longest Golf Balls, I also cite the backspin rates for the top 30 balls on the market.
Make sure you keep your ball clean and dry as well. Mud, dirt or sand on the ball decreases backspin immensely (about 33% less) as does moisture (about 49% less); that's why you can spin it well in wet conditions.
Trying to find answers on my website? Here's how.
1. Go to my Frequently Asked Questions (FAQ) page. There's a link to it on my pages from the left hand menu near the top of the page, just below the Search icon. It's called "FAQs." You then click on the graphic icon and you'll be taken to my database page. For your convenience, here it is:
FAQ
I've answered hundreds of questions over the past 6 years and have created a fairly large database. You can search it out. If you can't find the answer you're looking for, submit a question and I'll answer it.
2. On all of my web pages, there is a search feature in the top left section, right underneath my LOGO. Just place your search keywords in the search box, select "This Site" below it, and then press "Search." What will come up is a Google search of the pages on my site with relevance. You can also search the entire internet by selecting "Web" instead.
Go to my main page now: Home or just check the top left menu of this page.
3. Also, directly under the Google Search area, you'll find a pop down menu called "Your Topic." Select the topic of interest and press "Go."
I would suggest you bookmark my main page and/or your specific areas of interest so that you can find them easily in the future. On each page at the very top, there is a link you can click on:
"Click here to add this page to your favourites"
Hope you find all you're looking for.
You can learn more from NEW Titleist Pro-V1 by clicking HERE.
Proper Preparation Prevents Poor Performance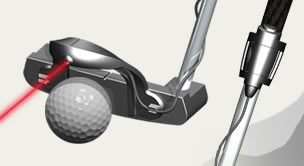 Take a look at the Laser Putting Device that I use and consider getting one for yourself. You can use it to improve your putting alignment. You can even attach it to the face of your iron when practicing your alignment process. Order yours TODAY! Only $49.95

If you'd like some help with your mental game, fellow Canadain, Lisa Brown is a mental toughness coach for National and Olympic athletes, and she has written some excellent ebooks. Click HERE to take a look. If you have any other great ideas of why or how to use new golf technology to improve, please share them with me and I'll include them in the next newsletter. Submit your suggestions HERE .
I'd appreciate any comments you have. Email them to me at probablegolf@yahoo.ca

Make a Newsletter Suggestion.

A list of resources that have been used to produce this newsletter can be found on my web site here.

Hope I provided some useful ways for you to become better prepared for you best golf season ever.

Ken Tannar

If you are interested in receiving a newsletter dedicated to the ideas of this site, use the form below to subscribe.

Privacy Statement: We will not use your mailing address for bulk mailings (spam). We will send information you have requested only. Furthermore, the frequency we will deliver the information will be small (about one email message per month). We will not pass your email address to third parties under any circumstances.