---
Revolutionary Golf Clubs -- Single Length Golf Shafts
Send me any suggestions you have for the next or future newsletters. Just submit your ideas using this simple form.
I've bought myself a new set of irons for this golf season. Not because I need a new set. It's an experiment. They're very different than the standard set of irons in that they all have the same length shaft. How will I hit my different irons different distances if they're all the same length? READ ON.
The last real revolution in golf clubs occurred a few years back with the invention of metal woods. Now we have those huge driver heads with very large moments of inertia. Our misses are straighter and longer. That revolution resulted from new technology which wasn't available before. My new irons are not revolutionary because of new technology. We've had the ability to make such clubs since the game was invented. They are a revolution in our understanding of what affects distance. Kind of like when we realized that the Earth was not the center of our solar system, but one of the planets that orbit the Sun.
You learned from the time you picked up your first club that short irons are designed to be shorter with more loft so that the ball will travel high and less distance. Long irons have less loft and longer shafts, thus they travel on a lower trajectory and hit the ball much farther. The common misconception we've all grown up with, however, is that the difference in length of the irons does not produce different distances. It's the loft which determines the distance.
Theorists will point to the radial arm length in a golf swing as being the prime determinant of swing speed; stating that the longer the radial arm, the greater the swing speed and resultant distance in a golf shot. A common misconception is that club length alone is used to define this radial arm length. Regardless of how many hinging points and resultant secondary arcs/planes are involved, the true center of a golf swing is a point somewhere between the golfer's shoulders (this center point moves laterally between the shoulders during the swing). Hence, you must include the golfer's arm length into the radial arm length equation for any meaningful analysis.
Therefore, assuming a 37 inch iron length and an arm length of 24 inches, the actual radial arm length in the golf swing is 61 inches. This means that a 1/2 inch increase in club length (the difference between the irons, say a 7 and 6 iron) results in a radial arm length increase of only 0.8%. A 2 inch increase in club length (the difference between a 7 and 3 iron) results in a radial arm length increase of 3.3%. If you could swing your 3-iron 3.3% faster than your 7-iron, then based on clubhead speed alone, you'd hit your 3-iron 3.3% farther. But a player that hits his 7-iron 145 yards hits his 3-iron about 185 yards, or 28% farther.
The major reason for the difference in distance of your irons is their loft, not their length. And besides, even though the longer irons are swung along a larger circle, giving more time to build up speed, they are more difficult to accelerate (because they are longer). An analogy would be picking up a short piece of lumber and rotating it. The end will move in a circle at a certain speed. Pick up a longer boards and rotate it. It's much more difficult to rotate, so, the end of the board might not be moving any faster than the short one.
As you can see, these fractional increases in radial arm length will not produce any measurable increase in swing speed or distance. In fact, the only thing that incremental increases in club length will produce is a progressive lack of control and poor ball striking.
For those demanding additional analysis on the affects of club length increases in relation to distance other factors need to be considered:
1) If the average golfer swings a #5 iron five times he will record five different swing speeds varying +/- 5mph.
2) Each incremental increase in club length results in lessened average center-face contact, which results in decreased distance.
Consequently, any increases in club length have to be analyzed in relation to decreases in center-face contact for each incremental club length increase in order to produce effective data. As per above, a 2 inch increase in club length results in only a 3.3% increase in the radial arm length of a golf swing with a virtually immeasurable increase in swing speed. Even if there was a measurable increase in swing speed testing has shown that a 2" increase in club length dramatically reduces the percentage of center face hits, and impact just 1/4" off center-face can reduce distance by 10 to 15 yards. Add to this the fact that the average golfer is incapable of producing a constant swing speed with any golf club, and you can plainly see through the myth that club length is the primary determinant of distance.
So, I'm embarking on a significant change in my equipment. The physics and math tells me that I should improve my consistency and thus lower my score. I can hardly wait to get onto the golf course. Unfortunately, everything here is still covered in snow. Mr. Ground Hog says winter is almost over. Spring is just around the corner.
I purchased my new set of equal length irons from a company called 1 Iron Golf. I've been in contact with the owner, and he's provided a deal for my website visitors. If you decide to purchase a set of irons, use this coupon code, 10504, and you'll receive free headcovers with your golf club purchase. I got them with mine, and they're really nice. It's an effective way to keep the iron heads from getting dinged up.
1 Iron Golf has a 30-day Money Back Playing Guarantee. That's right, you can play with your new clubs and return them if not satisfied that they've improved your game.
Write down your special code, 10504, and ......
Visit 1 Iron Golf right now.
For a limited time, they're offering free shipping within the continental USA and Canada.
Proper Preparation Prevents Poor Performance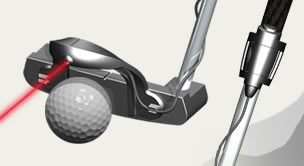 Take a look at the Laser Putting Device that I use and consider getting one for yourself. You can use it to improve your putting alignment. You can even attach it to the face of your iron when practicing your alignment process. Order yours TODAY! Only $49.95

If you'd like some help with your mental game, fellow Canadain, Lisa Brown is a mental toughness coach for National and Olympic athletes, and she has written some excellent ebooks. Click HERE to take a look. If you have any other great ideas of why or how to use new golf technology to improve, please share them with me and I'll include them in the next newsletter. Submit your suggestions HERE .
I'd appreciate any comments you have. Email them to me at probablegolf@yahoo.ca

Make a Newsletter Suggestion.

A list of resources that have been used to produce this newsletter can be found on my web site here.

Hope I provided some useful ways for you to become better prepared for you best golf season ever.

Ken Tannar

If you are interested in receiving a newsletter dedicated to the ideas of this site, use the form below to subscribe.

Privacy Statement: We will not use your mailing address for bulk mailings (spam). We will send information you have requested only. Furthermore, the frequency we will deliver the information will be small (about one email message per month). We will not pass your email address to third parties under any circumstances.