---
Golf Alignment -- Improved Putting
Send me any suggestions you have for the next or future newsletters. Just submit your ideas using this simple form.
As fall sets it, some of you might be winding down your golf season. Here are some ideas for treating yourself before you hang up the clubs.
Tap HERE for some great Fall Golf Holiday ideas.

In the last newsletter, we addressed the importance of alignment with the full swing. I outlined a procedure to use to improve your alignment. View the previous newsletter here.
How often do you two putt from 60 feet? If you're like most golfers, probably not very often. To do so, you need to get your first putt inside 6 feet to have a 50% chance. Even the Tour Pro only sinks about 60% of his 6 foot putts. TAP HERE to look at a graph of Putting Percentages.
Most golfers don't align the putter face accurately towards their target. CLICK HERE for the research. To get a 60 foot putt down in two strokes, the golfer must do the following:
1. Read the putt correctly so that the amount of break is predicted accurately. CLICK HERE to learn how to read putts.
2. Align the putter towards the desired target.
3. Stroke the putt along the intended target line.
4. Hit the putt with the correct speed to travel the desired distance.
It's actually quite a complex task. Many have said that putting is the simplest part of the game and the easiest to learn proficiency. I beg to differ. If this was the case, then there'd be many more very good putters. Becoming a good putter requires a tremendous amount of coordination.
Misalign by 5 degrees on a 60 foot putt creates an error of 5.3 feet at the hole; and, that's if you get the distance right. Since the golfer instinctively responds to feedback from the shot, consistently misaligning leads to modifying the stroke. Most right handed golfers misalign to the right. Consistently hitting the ball right of the target will lead to modifying the stroke to pull the ball to the left. If you look at most right handed golfers full swings and putting strokes, you'll find that they pull across the ball. The path of the club is to the left of where the face of the club is aimed. Thus, there are a lot of "cut" shots out there (fades and slices on long shots, and errant putts).
To improve your stroke, you need proper feedback. It's essential that you practice your putting with the aid of alignment aids, the simplest of which are golf clubs laying on the putting green along your intended target line.


The procedure I use to align my putter face to my intended target is the same as with my full swing. I pick an intermediate target about 3 feet in front of the ball (discolouration in the grass), and aim at that. You can review the whole process in my previous newsletter. View the previous newsletter here. The only addition would be keeping your eyes over your putter face and target line as in the photo above. This makes it easier to aim the putter down the target line.
You can practice your alignment all winter long in the comfort of your home. I highly recommend doing this. The more you practice proper alignment, the better you'll become. Remember, "practice makes perfect." Or, even more to the point about the importance of accurate alignment, are the five P's:
Proper Preparation Prevents Poor Performance
For your practice putting, I highly recommend you acquire a laser putting aid. It's really the only way you can determine if your putter face is actually square to your target. You can even play with it (not in competition, though). Over time, you'll find that you're getting more putts online.
I recently tested and evaluated a Laser Putting Alignment Device and found it extremely helpful. I've always been told by some players that I tend to "cut" my putts a bit, which means my putter face is open slightly at impact. After attaching the laser device to my putter and aiming the putter at a target, I discovered that I consistently aim the putter face slightly left of the target. To compensate, I open the face slightly during the stroke and cut the putt.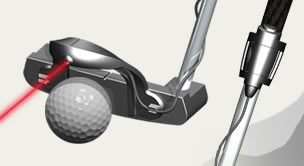 After only a few days of practicing my alignment with the laser device attached, I am now squaring the putter face to my target consistently. I can now practice making a proper stroke confident that I am aimed at my target. I am missing my putts a little right now, but am confident that I will "cure" my cut stroke.

Take a look at the Laser Putting Device that I use and consider getting one for yourself

Order yours TODAY! Only $49.95

If you'd like some help with your mental game, fellow Canadain, Lisa Brown is a mental toughness coach for National and Olympic athletes, and she has written some excellent ebooks. Click HERE to take a look.

If you have any other great ideas of why or how to use new golf technology to improve, please share them with me and I'll include them in the next newsletter. Submit your suggestions HERE .


I'd appreciate any comments you have. Email them to me at probablegolf@yahoo.ca

Make a Newsletter Suggestion.

A list of resources that have been used to produce this newsletter can be found on my web site here.

The focus of my site is to utilize science and math to lower your score. New technology is one way to achieve this, but to be honest, the technology is one small piece of the puzzle.

To actually improve significantly, we all need to:

1. Improve our swings using CD Interactive, Hit Down Dammit!

2. Learn how much putts break by using BreakMaster Green Reader!

3. Improve our physical fitness and strength.
The Golf Trainer Power Performance ProgramT and Ultimate Golf Fitness Ebook

4. Improve our mental games. Golf Mind Software

5. Improve our Probable Golf games. Learn how to make better choices on the course through knowing how shot patterns and reading the elements and course better.

Click on the links above to take a look at ways that I personally use myself and recommend you try as well.

Hope I provided some useful ways for you to become better prepared for you best golf season ever.

Ken Tannar

If you are interested in receiving a newsletter dedicated to the ideas of this site, use the form below to subscribe.

Privacy Statement: We will not use your mailing address for bulk mailings (spam). We will send information you have requested only. Furthermore, the frequency we will deliver the information will be small (about one email message per month). We will not pass your email address to third parties under any circumstances.