---
Golf Alignment -- Small Errors Magnified
Send me any suggestions you have for the next or future newsletters. Just submit your ideas using this simple form.
Click here to order Dave's Pelz's Short Game Bible, OR get it at your local bookstore. BUT, whatever you do, GET IT !! Your game will love you for it.
Tap HERE for some great Fall Golf Holiday ideas

How important is alignment in golf? If you said, vitally, you're right. Improper alignment among amateurs leads to the majority of missed shots. Improper alignment results in many of the swing faults and putting stroke faults that are out there.
For instance, an error in alignment of ONE degree on a 200 yard shot results in an error of 3.5 yards. An error in alignment of FIVE degrees results in an error of 17 yards (that's the width of some greens). That's a huge error!! Misalign by 5 degrees on a 20 foot putt creates an error of 21 inches at the hole. If you can't align properly, how can you ever hit your target??
The vast majority of right handed swingers align too far to the right. Likewise the vast majority of left handed swingers align too far to the left. Since the object is always to hit the ball towards the hole, these golfers have unconsciously modified their swings, to the best of their abilities, to get the ball on line even though they're grossly misaligned. They have created extra moves in their swings and putting strokes, making them more complex and ineffective.
Most right handed swingers slice the ball. Why? Partially because they use their arms and hands too much, ignoring their lower body and torso. But because they misalign to the right, they have produced an outside to inside swing path to pull the ball towards the left to compensate. The further they misalign right, the more they swing outside to inside. Such a swing is weak (it can't produce high club head speeds) and produces slices that are difficult to control and produce less distance.
Imagine trying to learn to shoot a rifle with the sites grossly off. There would be a lot of trial and error but you'd eventually be able to hit your target by holding the rifle in an unorthodox way. It's the same with the golf swing. Improper alignment leads to unorthodox swings.
So, how does one align properly? That's the topic of this series of newsletters.
Alignment with the Full Swing
Anytime I go to the driving range, it amazes me how few golfers ensure they are aimed at their targets. With grass tees, very few have clubs placed on the grass to aid their alignment. On artificial mats, the same is true and they don't align the mat so that they are aimed at a specific target.
Here is my recommended process of aligning yourself at your target.
1. Stand about 10 feet behind your ball and visualize your target line from your ball to your target.
2. Pick an intermediate target to aim at 3 to 6 feet in front of your ball which is on the target line. It can be a leaf, discolouration in grass, broken tee, etc. Research has shown that using an intermediate target significantly increases alignment accuracy. CLICK HERE for the research.
Note in the photo to the left the white discolouration just off the target line about 3 feet in front of the ball.

3. Address the ball and aim the clubface at the intermediate target. To do this, imagine a big "T" attached to the clubface. The top of the "T" is on the clubface and the body of the "T" points towards your target. You want that to point directly at your intermediate target. If it is, then you're aimed along your target line (blue line in photo). This is called squaring your clubface to the target.

4. Keeping your club still, now take your stance so your feet form a straight line (red line in photo) that is parallel to your target line and is perpendicular (at right angles; 90 degrees) to the top of the "T".

When practicing, you'll find it helpful to place one club on the ground to replicate the red line and one to replicate the blue line.

Step 3 (squaring your clubface to your target) and then Step 4 (squaring your feet to your clubface), both involve error. You might be 5 degrees of in Step 3 and another 5 degrees off in Step 4. So, it's important to practice with the aid of golf clubs placed on the ground.

4. I use a double check process for my alignment. Through practice, I have learned where the target should appear when I swivel my head to see the target. It's important that you just rotate your head without bending your neck. I even go so far as placing a metal clip on the left side of my golf cap rim. When I swivel my head, the target appears directly underneath the metal clip.
This alignment process will still lead to some error but it's minimal. It's important that you practice the process to perfect it. It's some thing you can practice in your home or office. Remember, "practice makes perfect." Or, even more to the point about the importance of accurate alignment, are the five P's:
Proper Preparation Prevents Poor Performance
Like I shared with you in my last newsletter, you can also practice this process of alignment with the putter, at home on your carpet.
I recently tested and evaluated a Laser Putting Alignment Device and found it extremely helpful. I've always been told by some players that I tend to "cut" my putts a bit, which means my putter face is open slightly at impact. After attaching the laser device to my putter and aiming the putter at a target, I discovered that I consistently aim the putter face slightly left of the target. To compensate, I open the face slightly during the stroke and cut the putt.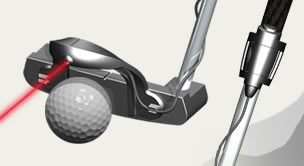 After only a few days of practicing my alignment with the laser device attached, I am now squaring the putter face to my target consistently. I can now practice making a proper stroke confident that I am aimed at my target. I am missing my putts a little right now, but am confident that I will "cure" my cut stroke.
Take a look at the Laser Putting Device that I use and consider getting one for yourself
Order yours TODAY! Only $49.95
If you'd like some help with your mental game, fellow Canadain, Lisa Brown is a mental toughness coach for National and Olympic athletes, and she has written some excellent ebooks. Click HERE to take a look.
If you have any other great ideas of why or how to use new golf technology to improve, please share them with me and I'll include them in the next newsletter. Submit your suggestions HERE .
What tempo do you swing the club with? Research has shown that all the best players, past and present, swing with one of three tempos. Unlock yours and start striking the ball better TODAY!
Use coupon PGOLF for 10% off.
"Tour Tempo has improved every club in my bag from driver thru wedges," says Tripp Isenhour, the current leading money winner on the Nationwide Tour. Tripp has won two of the first five events in 2006.

Click HERE to unlock your ideal TEMPO!


Send me some feedback or ask some questions before I put out the next newsletter. Use this simple form.

Now, go get that book . Go to your local bookstore and get it OR click here, Click here to order Dave's Book, to order it from amazon; your game will thank you for it.

If you'd like more detail on choosing a new driver, purchase my special report. Learn about what it means to have a low, center of gravity and high moment of inertia. Buy Now for $10.99 or get it for free by purchasing a Swing Speed Radar.


I'd appreciate any comments you have. Email them to me at probablegolf@yahoo.ca

Take a look below the suggestion box for some more ideas on how you can improve your game.

Make a Newsletter Suggestion.

A list of resources that have been used to produce this newsletter can be found on my web site here.

The focus of my site is to utilize science and math to lower your score. New technology is one way to achieve this, but to be honest, the technology is one small piece of the puzzle.

To actually improve significantly, we all need to:

1. Improve our swings using CD Interactive, Hit Down Dammit!

2. Learn how to swing simpler like the Iron Byron with the great coffee table book, Swing Machine Golf!

3. Improve our physical fitness and strength.
The Golf Trainer Power Performance Programô and Ultimate Golf Fitness Ebook

4. Improve our mental games. Golf Mind Software

5. Improve our Probable Golf games. Learn how to make better choices on the course through knowing how shot patterns and reading the elements and course better.

Click on the links above to take a look at ways that I personally use myself and recommend you try as well.

Hope I provided some useful ways for you to become better prepared for you best golf season ever.

Ken Tannar

If you are interested in receiving a newsletter dedicated to the ideas of this site, use the form below to subscribe.

Privacy Statement: We will not use your mailing address for bulk mailings (spam). We will send information you have requested only. Furthermore, the frequency we will deliver the information will be small (about one email message per month). We will not pass your email address to third parties under any circumstances.