---
The 2007 Titleist Pro V1 and V1x Golf Balls
Send me any suggestions you have for the next or future newsletters. Just submit your ideas using this simple form.
There wasn't much to improve on, but Titleist did make some nice changes to their 2007 Pro V1 and V1x balls. More than 43-percent of the money spent in 2006 in on-course ball sales was spent on the Pro V1/Pro V1x, according to Golf Datatech.
Titleist claims a little longer distance (2 - 4 yards) for some golfers. As usual however, they don't cite any testing results that were done, so, in my opinion don't expect any more distance. 2 - 4 yards is a very small percentage increase over the previous models even if they were experimentally validated.
In my latest study on golf ball distances, 2005 Longest Golf Balls, I reported that of the game's top 30 balls, there are only a few that are actually siginficantly longer. The Titleist Pro V1 and V1x are not; they're basically just average. So, if you're look for longest distance, the Pro V won't give it to you.
What Pro V will give you, however, is exceptional feel and spin. The new 2007 model are touted as Drop-And-Stop™ greenside control. Again, Titleist doesn't cite any backspin numbers to verify superiority here so I guess it's more of a marketing gimmick. My 2005 Longest Golf Balls study did find, however, that the Pro V does have above average backspin.
The one Pro V improvement I do feel will make a difference with your game is their A.I.M. (Alignment Integrated Marking) sidestamp - integrated alignment guide for improved putting alignment. I've focused a number of my most recent newsletters on the importance of alignment. I've marked my golf balls with alignment lines for years now. You can line up the ball along your target line with every on the green and on the tee. It really helps you align properly.
The cost? About $60 US per dozen. Titleist does claim that the cover is the most durable yet, but, most golfers don't wear out their balls, they lose them. If you can afford to play them, I'd recommend that you do. As I've reitierated many times, the most important part of your game for scoring is the short game (100 yards and in). It's important that you play a ball that you can feel and with which you can generate maximum backspin.
I won't be buying any new Pro V1s soon. I still have a few dozen left from 2005. If you haven't any, I suggest you give them a try, even if their a few years old.
You can learn more from Titleist by clicking HERE.
Here's a little experiment for you to try. For the next 5 to 10 rounds, as soon as you have a short game shot (100 yards or less, including putting), replace the ball you're playing with a Pro V1. That way, you're using a Pro V1 for all of your short game shots and you likely won't loose it. I bet you'll realize lower scores. Of course, the more rounds you play like this, the better. Of course, doing this is against the rules of golf so you can do it in a tournament. Your playing partners might not let you do it either.
Putting Tips
Since we're on the topic, how about a few tips on putting in general? Of course, alignment is critically important. Using the Pro V1 A.I.M. idea can really help. A Laser Putting Alignment System. can also greatly assist teaching you whether you are actually aimed where you think you are.
Once you are good at aligning your putter properly, then you need to be able to read the green to determine what line to roll the ball along. I advocate using the Plumb Bob method to assist. What also helps is to understand some basic principles about breaking putts:
1. Putts break most during the final half of their journey.

2. Uphill putts break less; downhill putts break more.

3. Fast greens yield more break; slow greens yield less break.

4. To maximize the number of putts that drop, the speed should be such that it the ball does miss the hole, it would end up about 17 inches past the hole (Dave Pelz's Putting Bible)

5. Hitting putts with greater speed reduces the amount of break (that's why putts break less on slower greens; the ball is moving faster). So, you should putt your short putts firmly to minimize break (17 inches past hole is best).

Take a look at The BreakMaster for measuring green break.
As I mentioned my my last newslette , I'm embarking on a significant change in my equipment this season. The physics and math tells me that I should improve my consistency and thus lower my score. I can hardly wait to get onto the golf course.
I purchased my new set of equal length irons from a company called 1 Iron Golf. I've been in contact with the owner, and he's provided a deal for my website visitors. If you decide to purchase a set of irons, use this coupon code, 10504, and you'll receive free headcovers with your golf club purchase. I got them with mine, and they're really nice. It's an effective way to keep the iron heads from getting dinged up.
1 Iron Golf has a 30-day Money Back Playing Guarantee. That's right, you can play with your new clubs and return them if not satisfied that they've improved your game.
Write down your special code, 10504, and ......
Visit 1 Iron Golf right now.
For a limited time, they're offering free shipping within the continental USA and Canada.
Proper Preparation Prevents Poor Performance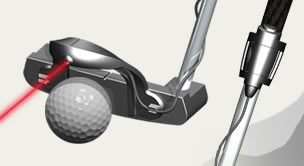 Take a look at the Laser Putting Device that I use and consider getting one for yourself. You can use it to improve your putting alignment. You can even attach it to the face of your iron when practicing your alignment process. Order yours TODAY! Only $49.95

If you'd like some help with your mental game, fellow Canadain, Lisa Brown is a mental toughness coach for National and Olympic athletes, and she has written some excellent ebooks. Click HERE to take a look. If you have any other great ideas of why or how to use new golf technology to improve, please share them with me and I'll include them in the next newsletter. Submit your suggestions HERE .
I'd appreciate any comments you have. Email them to me at probablegolf@yahoo.ca

Make a Newsletter Suggestion.

A list of resources that have been used to produce this newsletter can be found on my web site here.

Hope I provided some useful ways for you to become better prepared for you best golf season ever.

Ken Tannar

If you are interested in receiving a newsletter dedicated to the ideas of this site, use the form below to subscribe.

Privacy Statement: We will not use your mailing address for bulk mailings (spam). We will send information you have requested only. Furthermore, the frequency we will deliver the information will be small (about one email message per month). We will not pass your email address to third parties under any circumstances.