2008 Golfing Goals

Improve Your Golf Game Significantly

So, what's in store for your golf game this year? Will this be a year of improvement for you? I hope so. We all know how hard it is to improve at this game. Significant, long term improvement usually only occurs when we make improvements to ourselves, not our equipment. It is really hard, if not impossible, to BUY a good game.

As you look towards another golf season, I encourage you to make a commitment for significant improvement this season. Here is my list of what you can work on to improve. Every golfer can improve in these two important areas.

The short game (100 yards and in, including putting) makes up over half the shots for most golfers. A modest improvement here will definitely drop strokes from your score. If you average 90, then probably over 45 shots are within 100 yards. Even a modest 5% improvement will shave an average of 2 shots off your score. To improve, do the following:
Get a copy of Dave Pelz's Short Game Bible. It'll make you dramatically aware of the different facets of the short game and steer you towards improvement. CLICK HERE for more.
Dedicate any and all practice time this season to just the short game. Forget about beating balls on the driving range. The key to the short game is feel and confidence. The more you practice, the more confident you'll become.
If you don't already, start playing a high performance (high spin and great feel) ball such as the Titleist Pro-V1 or NIKE ONE. The more backspin you can put on the ball on pitch shots, the closer you'll be able to get to the hole. Plus, great feel on the putter will improve your touch.
Get a copy of my latest study on golf ball distances. It analyzes actual distance data for the game's most popular balls. Find out which balls are the longest, which balls have the greatest length as well as spin and feel and what you should look at when buying a golf ball. CLICK HERE for more.
2. Mental Game
Controlling your emotions is essential to playing to your potential day in and day out. Learning how your mind works in enabling you to hit great shots is as important as learning how your mind can sabotage your performance.
Do you have trouble taking your game from the practice area to the course? If so, it's probably how you view your game mentally. You can make significant improvement to your game by improving your mental outlook and how you react to various situations such has recovering from a bad hole or a great hole.
There are many resources that can enable you to improve your mental game: books, CDs, newsletters, workshops, email. I'd recommend the following:
Peak Sport Network -- provides powerful strategies for Boosting Mental Toughness.
Dr. Cohn, a leading sports psychologist, leads the group. His free newsletter is excellent. He also provides lots of free tips on his site as well as his blog.
Take a look by CLICKING HERE.

"I am a PGA Professional and wanted some ideas to help my students, but my own game has improved! I think I will shoot 69, negative thoughts have vanished, and my self-talk and confidence has improved tremendously. I will be referring my students to your web site."
~Bill Allen, PGA Pro
"Peaksports.com web site is so exciting. I researched them all and without a doubt your mental training site is the best! The vast amount of programs provides helps athletes and coaches achieve higher levels of excellence in sports."
~Doug Bolander, Peaksports member
2. Using The Mental Keys to Polish the Wheel
Unique Mental Training Program
Guarantees to Lower Your Score
by Improving Your Mental Game
Discover how YOU can...
Make the pressure shots,


Eliminate your fears and sink more putts,
Easily shrug off your bad golf shots,

Increase your focus and confidence,

Take your practice game to the golf course,
Relax and lower your golf score,

Have a mental golf game that guarantees success.
Proper Preparation Prevents Poor Performance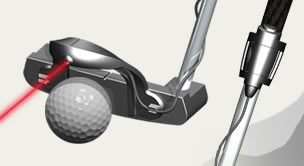 Take a look at the Laser Putting Device that I use and consider getting one for yourself. You can use it to improve your putting alignment. You can even attach it to the face of your iron when practicing your alignment process. Order yours TODAY! Only $49.95

If you'd like some help with your mental game, fellow Canadain, Lisa Brown is a mental toughness coach for National and Olympic athletes, and she has written some excellent ebooks. Click HERE to take a look. If you have any other great ideas of why or how to use new golf technology to improve, please share them with me and I'll include them in the next newsletter. Submit your suggestions HERE .
I'd appreciate any comments you have. Email them to me at probablegolf@yahoo.ca

Make a Newsletter Suggestion.

A list of resources that have been used to produce this newsletter can be found on my web site here.The focus of my site is to utilize science and math to lower your score. New technology is one way to achieve this, but to be honest, the technology is one small piece of the puzzle.To actually improve significantly, we all need to:

1. Improve our swings using CD Interactive, Hit Down Dammit!

2. Learn how much putts break by using BreakMaster Green Reader!

3. Improve our physical fitness and strength.
The Golf Trainer Power Performance ProgramT and Ultimate Golf Fitness Ebook

4. Improve our mental games. Golf Mind Software

5. Improve our Probable Golf games. Learn how to make better choices on the course through knowing how shot patterns and reading the elements and course better.Click on the links above to take a look at ways that I personally use myself and recommend you try as well.

Hope I provided some useful ways for you to become better prepared for you best golf season ever.

Ken Tannar

If you are interested in receiving a newsletter dedicated to the ideas of this site, use the form below to subscribe.

Privacy Statement: We will not use your mailing address for bulk mailings (spam). We will send information you have requested only. Furthermore, the frequency we will deliver the information will be small (about one email message per month). We will not pass your email address to third parties under any circumstances.