---
November 17 /09
Click here to add this page to your favorites
Click on any of the following Newsletter topics or just scroll down the page:
What to Practice this winter
PGA Tour Putting Statistics -- They sink 50% of .....
Handicap Survey -- Results
What you Practice ... What you expect?
Website Golf Poll Results

Going away on a golf holiday this winter with a group? Need a golf draw that pairs each player with each other player exactly once? or twice? or not at all? I have developed draws that meet those requirements. Take a look at them by CLICKING HERE, Golf Draws.
What to practice this winter?
Golf is over for most of us in the northern part of the northern hemisphere while the southern hemisphere is blossoming from spring to summer. If you're a seasonal golfer, have you noticed that as you get older, it is harder to regain your game in the spring? Let's face it, as we age, our bodies (and minds) have a tougher time getting back on track. Thus, it is more important to spend some time during the off season working on our games. Here's what I recommend you spend your time on:
1. Keep in shape, especially the legs and core (mid-section). Most importantly, do some significant stretching along with some strength training. Many studies have revealed that we start losing significant flexibility and strength once in our 50s. You can prevent much of this by keeping in shape.
If you need help in coming up with a program, try these:
Fitness For Golf -- provides an excellent program that offers a powerful collection of resources, sets of exercises you can print off on your computer, interviews with top golf experts such as Annika Sorenstam, golf fitness calculators, nutritional strategies and more....
Golf Gym has been helping golfers play better since 1987. They have a great selection of programs and items that can help you in your bid to become more golf fit.
2. Hit balls at least every week either at an indoor driving range or into a net at home. At the very least, take practice swings as if you're hitting a bucket of balls. This will really help keep your golf muscles flexible.
And, you know those swing changes you were working on during the season? Continue working on them. You need to make 1000s of swings for new motions to become automatic.
3. If your goal is more distance next year, you definitely need to work on improving your flexibility and strength, along with improving your technique. You don't want to make swing changes that reduce your clubhead speed, so its important to measure it as you practice.
The most effective and inexpensive device out there for doing is the the Swing Speed Radar. Take a look at this page to learn more.
It would make a great gift to yourself or someone else. Purchase one, and I'll throw in 25 golf club labels ... and ... you can get 20% off anything else.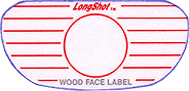 Impact Golf Club Labels
3. Practice your putting on a carpet. Work on your aiming, stroke mechanics and feel (putt different length putts). Your aiming is extremely important. Most golfers don't align the putter face at their target, but align it right of the target. They then modify their stroke to get the putt off in the correct direction.
Practice your alignment on a square tile floor using the tile grooves as guides. Or, get an device to help with your alignment, such as a Laser Alignment Putting Device. I just got a bunch of new ones in stock for Xmas.
4.Work on your mental game. There a number of great books and DVDs out there that can help. One of my favourites are:
You can look at all of my products here: Order Golf Tips & Accessories
PGA Tour Putting Statistics: 50% success?
What length putt do you think a PGA Tour player has a 50-50 chance of sinking? You'll be surprised.
At each of 15 tournaments during the latter half of 1988 (yes, it's a while ago, but, average scores haven't changed significantly since then), a Tour field staff chose one green with a smooth and relatively flat surface on each course. Then, for the four days of competition, every putt was measuring and recorded. Altogether, they measured over 11 000 putts.
Here are the results. The pros made:
83% of their 3 footers
53% of their 7 footers
34% of their 10 footers
16% of their 20 footers
10% of their 25 footers
Surprising, isn't it. Basically, you can flip a coin when a pro has a 7 footer.
How does your putting compare?
I've been conducting a Handicap Improvement Survey from my site over the past year or so. I now have enough results so that I can make some statistical conclusions.
I'll be reporting the results in my next newsletter. If you haven't completed it before, please be part of the results now:
What you practice ... What you expect?
Golf Magazine commissioned the National Golf Foundation to survey the average American golfer. Here's some of what they found out.
Average Handicap = 15.1
The survey asked:
1. What area do you need to improve to shoot lower scores?
2. How much do you practice each week and on what do you focus?
The average golfer spends 71 minutes per week practicing. In the table below is a break down comparing what the golfer thinks is required for improvement and what the golfer actually does about it.
| | | | | |
| --- | --- | --- | --- | --- |
| | Short Game & Putting | Mid Irons to Fairway Woods | Driver | Swing Mechanics |
| What needs to be my focus? | 31% | 15% | 10% | 17% |
| What I actually do about it? | 59% | 23% | 18% | N/A |
Dave Pelz and others have definitely gotten the short game message through to the average golfer with 59% of the practice time being dedicated to the short game. Still, too much time is dedicated to the Driver.
Another question asked was given unlimited time to work on the game, how low could the golfer lower his/her handicap?
19% I could be scratch
48% 1-9 Index
22% 10-14 Index
8% 15-19 Index
Given that less than 1% of the world's golfing population is scratch or better, I think a goal of 19% becoming scratch is a little unrealistic, even given unlimited time.
Check out the optimum loft for your Driver based on you club speed. You can even download a version of the spreadsheet I use for my research. CLICK HERE.
Trying to find answers on my website? Here's how.
1. Go to my Frequently Asked Questions (FAQ) page. There's a link to it on my pages from the left hand menu near the top of the page, just below the Search icon. It's called "FAQs." You then click on the graphic icon and you'll be taken to my database page. For your convenience, here it is:
FAQ

I've answered hundreds of questions over the past 6 years and have created a fairly large database. You can search it out. If you can't find the answer you're looking for, submit a question and I'll answer it.

2. On all of my web pages, there is a search feature in the top left section, right underneath my LOGO. Just place your search keywords in the search box, select "This Site" below it, and then press "Search." What will come up is a Google search of the pages on my site with relevance. You can also search the entire internet by selecting "Web" instead.
Go to my main page now: Home or just check the top left menu of this page.

3. Also, directly under the Google Search area, you'll find a pop down menu called "Your Topic." Select the topic of interest and press "Go."

I would suggest you bookmark my main page and/or your specific areas of interest so that you can find them easily in the future. On each page at the very top, there is a link you can click on:
"Click here to add this page to your favourites"

Hope you find all you're looking for.

You can learn more from NEW Titleist Pro-V1 by clicking HERE.

A list of resources that have been used to produce this newsletter can be found on my web site here.

Hope I provided some useful ways for you to become better prepared for you best golf season ever.

Ken Tannar

If you are interested in receiving a newsletter dedicated to the ideas of this site, use the form below to subscribe.

Privacy Statement: We will not use your mailing address for bulk mailings (spam). We will send information you have requested only. Furthermore, the frequency we will deliver the information will be small (about one email message per month). We will not pass your email address to third parties under any circumstances.