---
January 19 /09
Click on any of the following Newsletter topics or just scroll down the page:
Compare Your Stats by Handicap and PGA Tour
Improve Your Fitness to Lower Your Score
What's Your Swing Tempo?
How Many Putts per round? How long are they?
Less Length & More Loft -- Gap Distance

Compare Your Handicap Stats
Dave and Edward Pelz of the Pelz Golf Institute conducted a research project to measure amateur performance under tournament conditions and compare it to the PGA Tour performance. State-of-the-art ShotLink equpment and procedures were used to measure ball starting and ending positions. The study has been published in Science and Golf V, Proceedings of the World Scientific Congress of Golf.
I've replicated some of the graphs which were published based on the data. Using your handicap, see if the stats match your abilities. Each graph plots a golf statistic versus golf handicap. Values for average and best PGA TOUR player handicaps used in the comparisons were +5.5 average and +8.0 best. In the graphs, these handicaps are plotted as -5.5 and -8.0, respectively.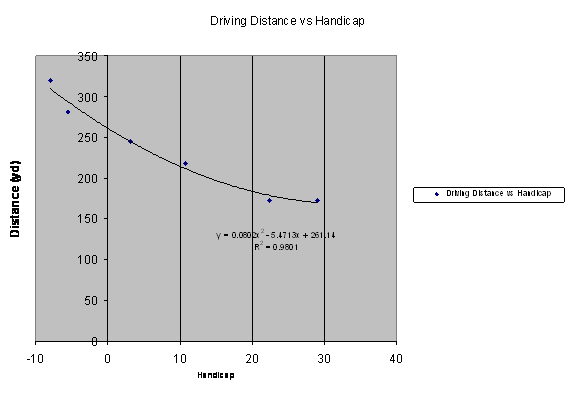 As can be seen from the graph above, PGA Tour players hit the ball about 100 yards farther than a 20 handicap player. What a huge difference?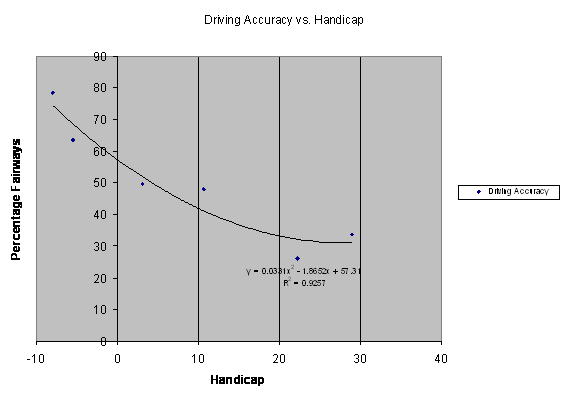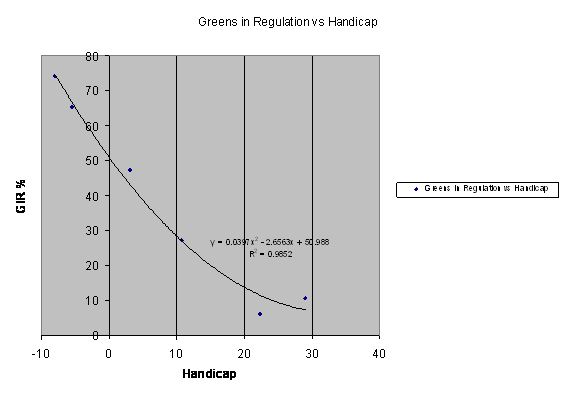 Note the steepness of the last graph above. High handicappers hit far fewer greens than the professionals. It's interesting to note that a scratch handicap only hits above half of the greens.
I'll be using the statistics above and other stats from the same report to do a more in depth analysis of amateur golfers. Stay tuned in my future newsletters.
One of the biggest problems amateurs have is having many different golf swings to master: one for the short irons, one for the middle irons, one for the woods, one for the Driver. Wouldn't it be better to have and only need to focus on one golf swing? I support the concept of equal length irons so that the golfer has only one swing. Learn more about these revolutionary clubs HERE.
Please answer my latest poll question on your favourite clubs.
A 20 handicapper takes on average 36 putts per round. Of those putts, about 15 of them are less than 6 feet long. That's 42% of all his/her putts. A 20 handicapper typically shoots about 90, so that means 40% of his/her strokes are putts. 17% of all his strokes are putts of less than 6 feet.
What do you think would be the most advantageous part of the game for a 20 handicapper to work on? That's right, putting and specifically, putts under 6 feet.
Here's a graph of one putt statistics.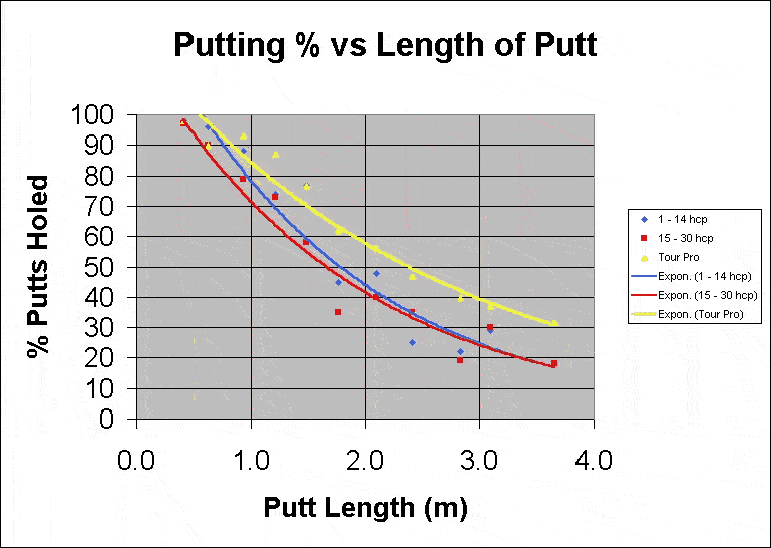 A 20 handicapper only sinks 70% of his 3 foot (1.0 m) putts and 40% of his 6 foot (2.0 m) putts.
Why do you think a 20 handicapper misses so many short putts? The main reason is alignment of the putter. Most amateurs do not align the putter face along the correct target line.
Want to learn how to align more putts correctly and sink more putts? It's the easiest way of lowering your score. Find out more by clicking on this link.
For years, I have advocated improvement of physical fitness for better golf, especially as one grows older. Your body is the machine that connects your mind to the ball. If the body is not in good shape, it's tough to get it to do what you want, even if the body has done it many times before in the past.
Kinesthetics in the golf swing are crucial to good ball striking. In other words, the body must be able to "feel movement" in order to get proper feedback. If the muscles are not in good shape, or if they are tired, it's difficult for them to do their job.
Hopefully, you have made some New Year's Resolutions that involve your golf game. Why not improve your golf game and your health all at the same time. I'm not talking about heavy endurance training, but proper stretching and strengthening of your important golf muscles.
I'm not an expert on fitness, but do know some that can help you out greatly. Take a look at these two experts that work full time trying to enable golfers to improve by improving their level of golf fitness:
1. Fitness For Golf -- provides an excellent program that offers a powerful collection of resources, sets of exercises you can print off on your computer, interviews with top golf experts such as Annika Sorenstam, golf fitness calculators, nutritional strategies and more....
So, especially if you're approaching 50 (or have surpassed this milestone), I strongly suggest you begin a fitness program. As you age, you will begin to lose distance. Much of the loss, however, can be maintained, as long as you remain golf fit.
2.Golf Gym has been helping golfers play better since 1987. They have a great selection of programs and items that can help you in your bid to become more golf fit.
"TOUR TEMPO is an exciting breakthrough in golf instruction, the most revolutionary work to be published about the golf swing since the beginning of golf as we know it." - Doubleday Books
For the golf swing to work smoothly and efficiently, the various swing motions must occur in a specific order. How effectively one follows the other depends on the "tempo" of the golf swing. A few years ago, John Novoel analyzed the swings of numerous professionals and made some remarkable discoveries about the timing of the swings components.
TAP Here to learn more!

In his breakthrough book, John Novosel and Sports Illustrated writer John Garrity explain exactly how to achieve TOUR TEMPO. Through clear, step-by-step instruction, golfers are taught how to master two basic drills to synchronize their swing.
Peak Performance -- How to Gain Confidence
I subscribe to Dr. Cohn's free Sports Psychology newsletter, Sports Insights. He has a lot of great tips on golf's mental game. He talks a lot about the pre-shot routine and remaining focused. He also has a series of videos that golfer can view for free. His latest is about confidence.
Here's the link to his confidence video: Confidence for Low Scores
Click here to order Dave's Pelz's Short Game Bible, OR get it at your local bookstore. BUT, whatever you do, GET IT !! Your game will love you for it.
Trying to find answers on my website? Here's how.
1. Go to my Frequently Asked Questions (FAQ) page. There's a link to it on my pages from the left hand menu near the top of the page, just below the Search icon. It's called "FAQs." You then click on the graphic icon and you'll be taken to my database page. For your convenience, here it is:
FAQ

I've answered hundreds of questions over the past 6 years and have created a fairly large database. You can search it out. If you can't find the answer you're looking for, submit a question and I'll answer it.

2. On all of my web pages, there is a search feature in the top left section, right underneath my LOGO. Just place your search keywords in the search box, select "This Site" below it, and then press "Search." What will come up is a Google search of the pages on my site with relevance. You can also search the entire internet by selecting "Web" instead.
Go to my main page now: Home or just check the top left menu of this page.

3. Also, directly under the Google Search area, you'll find a pop down menu called "Your Topic." Select the topic of interest and press "Go."

I would suggest you bookmark my main page and/or your specific areas of interest so that you can find them easily in the future. On each page at the very top, there is a link you can click on:
"Click here to add this page to your favourites"

Hope you find all you're looking for.

You can learn more from NEW Titleist Pro-V1 by clicking HERE.

A list of resources that have been used to produce this newsletter can be found on my web site here.

Hope I provided some useful ways for you to become better prepared for you best golf season ever.

Ken Tannar

If you are interested in receiving a newsletter dedicated to the ideas of this site, use the form below to subscribe.

Privacy Statement: We will not use your mailing address for bulk mailings (spam). We will send information you have requested only. Furthermore, the frequency we will deliver the information will be small (about one email message per month). We will not pass your email address to third parties under any circumstances.