Do you have a golf question?
Have you been searching the web for hours with no results?
A question unanswered produces doubt in the mind!

Raise your GOLF GAME to a
HIGHER LEVEL
Join the PGI Select Membership Club
With Golf Instruction Quality Of The Pros!!
We're So Convinced That The Club Will Dramatically Improve Your Golf Game, We'll Guarantee Results… and that's not all!


Ask an Expert
Allexperts.com is the oldest & largest free Q&A service on the Internet and ranks Ken Tannar, founder of
PGI Select Membership Club
Best of the Best in GOLF
10 out of 10 in all categories
A recent question about golf balls:
"The break down by club head speed is great. There are so many that claim to be the longest, but this helps to decide. Thanks again for your expert advice."
--Dave Williams on 5/12/03, San Diego, CA
Dear Enthusiastic Golfer,
There's no better time to improve one's understanding of the action and reaction of the game of golf than when a question is posed.
You just finish playing a round and have a thought as to how to improve; you need an expert for advice and/or confirmation.
If left untouched, the question will either vanish, the unique idea gone forever, or doubt and confusion will set in.
The solution is easy…
By joining the
PGI Select Membership Golf Club
Your answers and golf solutions
are only an email away.
That's what this letter is about… showing you where to turn to get the answers and expert adivce that will jump your game to next level.
That's where I come in. My name is Ken Tannar, creator and maintainer of Probable Golf Instruction. I employ the concept of science aiding the understanding and application of the game of golf.
You may never have heard of me before, but I'm considered an expert on the science of golf. Science, of course, has given many positive features to our lives: the computer, satellite, telephone, fax machine, automobile, etc. It can also given us a great tools to improve our games.It has already done so with the new driver and ball technology enabling us to hit it farther. But there is much more hidden in the abyss of golf science. We just need to find it and unlock its secrets. Well, I have found the abyss and am unlocking its secrets.
In addition to being a physic/mathematics teacher I have been an expert golf consultant in many projects around the world where the science of golf has been needed to answer questions. Australia, United States, Canada and Ireland are just some of the places I have assisted in errant golf ball analysis (hopefully, none were yours).
My fee for one-on-one consulting is quite high ($150 US per hour). My expertise is required to answer problems with driving range saftey net heights, safety issues around golf courses and litigations involving errant golf ball damage.
Good news for you:
I've formed a club that golfers can join and have access to my consultation on an email basis. As a member of the club, you can email me any question related to golf and I will provide a helpful answer. The question can be general in nature or very specific to your own game.
You will have access to my expert knowledege base as well as my researching skills. If I don't know the answer directly, I will research and deliver!
The bottom line is this: If you want to take the frustration out in exchange for change that will yield positive results, the PGI Select Golf Club is for you.
Why would you pay for advice when there are so many websites with free FAQs and discussion forums?
*It's private. No one else will see your question.
*It's quicker. I guarantee to answer your question within 24 hours, usually sooner. Save time searching & coming up empty.
*It's interactive. You can email back to seek clarification..
*It's customized to you. Most FAQs deal with "average" situations.Are you average?
*It's worth the cost. You don't get great advice for nothing. You get what you pay for.
*It's better and less expensive than a golf magazine subscription. In fact, think of it as a magazine written exclusively for you and your game.
Being a 2 handicapper myself with a lot of competitive experience, I can assist you to manage the mental and emotional challenges that come up on the golf course. It's a skill that downright puts the fun back in the game.
Being a member of the Select Golf Club is like having your own training coach on call each day, 7 days a week. Because once you start applying the advice delivered from the benefits of Select Golf Club you'll be a much better, more consistent golfer.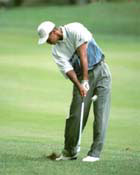 PGI Select Membership Club
Is The Only Complete Golf Club Available Today. And The Club's Benefits Are So Simple To Access, Anyone Can Do It!
With the Club's proven expert resources, you'll be striking the ball with fearless confidence more often! And satisfying your apetite for golf knowledge at the same time.
The Science of Golf has delivered awesome technology to the game. This technology is not the only answer to improvement. In fact, it's delivers only 10% or less of the answer. The other 90% comes from within ourselves. To improve your game, you must improve your understanding and application from within.
Here's just a small sample of what you'll learn in the PGI Select Club:


| | |
| --- | --- |
| | The very first thing you'll learn is to believe that you can. |
| | How do you manage your game on the course. |
| | What's your shot pattern? How to use it to lower your score. |
| | Play your best game under pressure |
| | Determine your "clubprintCP" for each club in your bag. |
| | How do you read greens and adjust for breaks? Most golfers underread putts by more than 70%. |
| | How do you club for elevation changes? |
| | What is GPS and how can it help your game? How do you use a laser rangerfinder? |
| | How much more club do your hit into a 20 mph wind? |
| | What causes the golf ball to slice or hook? How can a driver be designed to reduce the amount of ball spin? |
| | What are some great resources that could be used? |
| | Explain a golf event that occurred during the weekend's PGA event that the TV commentators could not explain. |
| | Why do I keep pushing all my tee shots to the right? |
| | How do you remained focused in a match? |
| | Understand clearly that mistakes are part of the game. |
| | Your golfing problems are not unique. |
As a member of the PGI Select Club you'll own a quiet confidence displayed only by the pros but feel free to share your newly acquired skills and knowlege. Here's what else you'll get out of the club:


| | |
| --- | --- |
| | What practice strategies should I use to improve and not get bored? |
| | Develop a positive inner-dialogue and stop sabotaging yourself. |
| | Block out distractions and stay focused. |
| | Become immune to fears you face in golf by developing physical mastery over your swing and your mental approach to the game. |
| | Own a technique to use on the course to put mistakes behind you and follow with a great shot. |
| | Have a knowledge base resource consistently available that's unique to the golfing community. |
And, believe me… this is only the beginning of all you get from PGI Select Membership.
Just get on the computer and compose your thoughts and questions. Then you're just two mouse clicks away from the satisfaction of a useful answer in a timely manner.. It couldn't be simpler!
And if you are one of the first next 100 customers to sign up for membership, no matter the level, I'll add something I know you'll like:
I'll Send You Your Own Copy of
How to read and play the wind? A $10 value for free!
So You'll Be Able To Start Taking Strokes Off Your Game Tomorrow, assuming it is windy,
And Control the Wind Instead of the Wind Controlling You!
I'm doing this because I want you to start experiencing the power that golf science can unleash to your game! The faster you get started, the faster you'll be playing at a level you've only dreamed of.
I also know (selfishly) that the sooner you start using the membership privileges, the sooner you'll tell your friends about the club and encourage them to join..
And you get a No-Risk, 30-Day, 2 Question, Money-Back Guarantee that simply says:
"Join PGI Select Membership Club for the next 30 Days. If, after you've put my invaluable resources to the test with 2 questions, you find that Club Benefits haven't more that delighted you, simply cancel your membership for a full no-hassle refund."
Think about it:
The worst that can happen is that you out the club and somehow, you feel it's not for you. You've received some valuable tips and you get your money back.
I'm the guy out $ due to transaction fees.!
But don't worry about me. I'm betting that you not only maintain your membership, but that you convince many of your pals to join, too.
Here's how to join:
You get a PGI Select Membership, complete with a 30-day no questions asked guarantee, PLUS, if you're one of the first 100 to join from this promotion, you'll get a copy of How to read and play the wind?, FREE. You get it all for a low, low investment of $20.That qualifies you for the PAR level membership.
You can use Visa, Master Charge, American Express, Discover or use your PayPal account. You can even mail me a cheque if you'd like to.
Click here to get started right away.
PGI Select Membership will easily and effectively teach you to manage the many challenging aspects of golf and you'll put the fun back into the game!
We're talking a real-life, nuts-and-bolts, down-to-earth, one-step system for improvement. Golf Question? Use your PGI Select Membership .
You Really Can't Afford NOT To Invest In This Method of Improving Your Game!
PGI Select Membership will give you the powerful edgel you've been lacking to bring your game to the next level; forever!
So take action right now, while it's fresh in your mind, and while you're still one of the first 100 to take advantage of How to read and play the wind?
If you prefer, simply mail me a personal cheque to: Probable Golf Instruction, 601 Capri Road, Enderby, B.C., V0E 1V3, Canada. If you live in Canada, you'll need to include 7% GST.
Go ahead, try PGI Select Membership at my risk for a full 30 days. If it doesn't boost your golf game to a new level, I want you to cancel your membership so I can give you a complete, no-hassle refund!
Sincerely,
Ken Tannar, PGI Select Membership Club